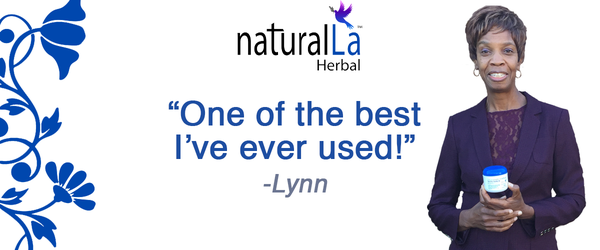 Exceeded my Expectations
"natural La Herbal products have met and exceeded my expectations of what I look for in a body care line. Organic, paraben & phthalates free & simple, yet effective.
I have combination skin (dry & oily), and have always had a hard time finding a moisturizer that address not only my combination skin, but can brighten & enhance my overall health of my face. natural La Herbal Butter Cream is THE BEST moisturizer I have ever used on my face & body. The butter cream hydrates my skin without leaving it oily. The organic ingredients leave my skin soft & smelling great without any harsh, strong smelling agents. This moisturizer glides on skin like butter. The consistency of this product is superior to all other facial moisturizers I've used. A little goes a long way with natural La Herbal Butter Cream, allowing me to lather my whole body with a small amount of product.
Made of red, green & brown clay, this mask works wonders! Simplicity is key to me & I enjoy a good face mask without the harsh chemical smelling agents. Feels great to know that this mask comes from the earth, from what God created. After using the mask my skin feels soft, not overly tightened as some mainstream masks I have tried. It helps to absorb any left over makeup on my face, I love to follow up with the butter cream after I've used the face & neck mask.
Sweating is our bodies way of excreting toxins & regulating body temperature, thus we shouldn't be clocking our sweat glands with aluminum based deodorants. This 100% Lavender oil deodorant is simple, yet effective. I roll the deodorant under my arms, 1-2 times daily and it keeps me feeling fresh my entire 10 hour shift ! Love it.
To conclude, I'm elated to have found a body care line that address all my needs. A line that thrives off of not adding chemical, unhealthy, unneeded fillers to the product in order for it to work. I look forward to seeing what natural la Herbal adds next to the line!" natural La Herbal also gives back by donating a portion of sales to Tri-County Veterans Resource Center, which adds to my love of natural La Herbal." Khawlah
Ooo La La
"If I were French my first expression would be "Ooo La La". All you need is a cleanser and natural La, and 4 to 6 weeks the difference will amaze you. I am in total agreement: natural La is the end. It is not a means to an end, with natural La you don't need anything else. Truly it is the categorical imperative, and I sing every day, 'Ooo La La." Dr. Douglas
I Use This Every Day for Me And My Children
"My face gets very oily during the day, but after applying natural La, my face balances out and it feels and looks good. I use this every day for me and my children. I also love that I can use this on my whole body. I recommend this product for anyone who wants to balance their skin and feel rejuvenated." Genese